Four Directions Skatepark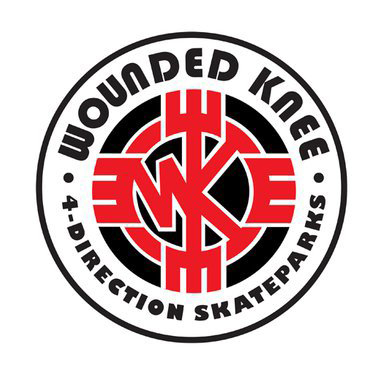 On October 15th, 2012, all of the supporters of the Stronghold Society's Live Life Call To Action Campaigns came together to help us gift to Lakota  Youth the WK4-Directions Skatepark Toby Eagle Bull Memorial to the Pine Ridge Community (South Dakota)… HUGE SUCCESS!
The day started out with a Lakota Prayer and Lakota Drum, and that set the course for unbelievable day. Big shout outs to Stronghold Society supporters Jeff Ament & Pearl  Jam / PJ10 Club, Vans, Steve Van Doren and Chris Overholser, Tony Hawk Foundation, Miki Vuckovich and Chris Saaca and Ben Harper. Thanks to Monk, Matt and Grindline Skateparks for their over and beyond efforts!! Thanks to the Lakota Skate Culture Movement and Pine Ridge Community who are joining in and working hard to support or youth. The WK4- Directions Skatepark is thee best in the state of South Dakota and maybe even surrounding states.
Jeff Ament took a break from the Pearl Jam Tour to join us in Pine  Ridge, and Jeff Ament and Jim Murphy wasted no time jumping the bowl and skating with the youth! Jeff even found time to shoot some hoops with the local youth!
Ray Barbee joined Chris Overholser and VANS TV "Pass The Bucket" crews Luke Korver to capture all the moments of this awesome day. VANS has been a huge supporter in all the Stronghold Society efforts. Ray skated with the youth and jumped on our basketball court stage and rocked us all some blues!!!
All day we had FREE Product donated from VANS, Independent – Keith  Wilson & Rhino, Bones- Michael Furukawa, Protec Helmets-Ariel Pe, JUICE Magazine – Dan Levy and Terri Craft, Wounded Knee Skateboards – Jim  Murphy, Jeff Ament, Pearl Jam, Christian Fresco PJ/20 Ten Club, Stronghold Society, Lakota Art Studio…. big shout out to Outlaw Skateshop for hooking up the youth with some killer deals on skateboard product.
Conscious Alliance huge supporter of our Stronghold Society efforts year round set up and handed out FREE Food bags of healthy food to the  Pine Ridge community… doing what they do best. Justin you da man!
The Eagle Bull family is so awesome. They fed all the people and had an honoring for all the supporters! Music by Scatter Their Own, K- Dog, Chance Two Crow, Monk even rocked some punk, Ray Barbee and few  others set the rhythm for the day!
Lots of media on hand including, Oprah Winfrey Networks "Our America"  with Lisa Ling…. The day whole day totally rocked!